How does pure aqueous ozone work?
Our patented Pure Aqueous Ozone technology infuses cold tap water with ozone gas to create our Aqueous Ozone Solution. CleanCore™ Solution's patented technology creates a cleaning solution that contains a high concentration of dissolved ozone in the form of nanobubbles.
The nanobubble difference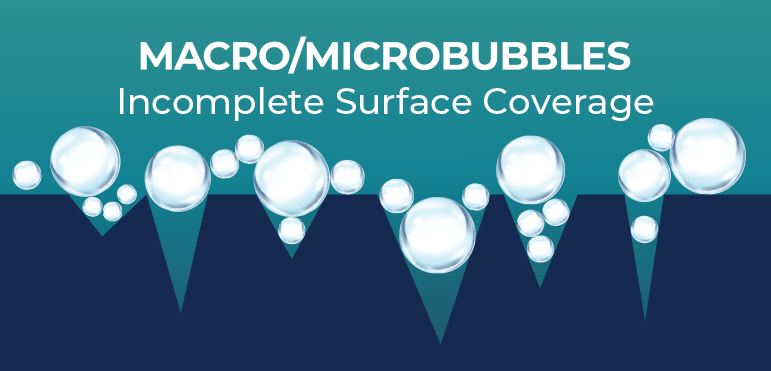 Nanobubbles eliminate the risk of incomplete surface coverage by thoroughly covering an entire surface.

By eliminating the use of harsh chemicals, our solution delivers a simpler, healthier, and more sustainable way to clean and sanitize all hard surfaces and equipment.

Sustainability impact
The positive impact using CleanCore is huge. Our Life-Cycle Analysis shows the impact on environmental and human health impacts range from 65% to 97% better than those for conventional chemicals. In every category evaluated, the Caddy resulted in a fraction of the overall environmental impacts associated with cleaning using traditional chemicals.
Usage allows for a reduction in storage, ordering, handling, and distributing of cleaning products.
Usage reduces or eliminates the cost of general cleaning chemicals.
Usage eliminates bacterial odors that are present after traditional cleaning – no need to mask with added fragrance.
Make the switch to a healthier, more effective solution.